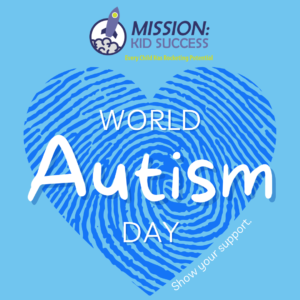 Today, we celebrate World Autism Day to kick off Autism Acceptance Month! Join us in spreading awareness & kindness for those diagnosed with Autism.
According to Autism New Jersey, "Autism is a neurobiological disorder characterized by impairments in social communication & interaction as well as restricted & repetitive patterns of behavior. Individuals with autism have difficulty interacting with others: building relationships, using language, regulating their emotions, & understanding others' points of view."
It is a "spectrum" disorder. To quote Dr. Stephen Shore, "When you have met one person with autism, you've met one person with autism." It affects each individual in different ways & with different severities.
Nationwide, 1 in 44 children are diagnosed with Autism. In NJ, the rate is 1 in 35 & it continues to grow.
Some ways you can observe Autism Acceptance month:
– Consider how you can show kindness, acceptance, & understanding towards those with Autism.
– Advocate for ways communities, schools, & businesses can be more inclusive.
– Support businesses that hire people with Autism & other developmental challenges like Ethan and The Bean in Little Falls, NJ. www.ethanandthebean.com
– Grab a copy of "Autistics on Autism"- a compilation of personal stories written by autistic adults & edited by our friend, Kerry Magro. Proceeds go to support a disability nonprofit. It's available for sale on Amazon.com.
– Support a charity that helps people with Autism, like Mission: Kid Success. We are 100% volunteer run & all donations go directly to grants to help local children with Autism & other developmental challenges receive the services & therapies they need to succeed. Donate by going to http://bit.ly/MKSDonate.
Join us in celebrating individuals with Autism & helping to create a future where those affected can reach their greatest potential through help, support, understanding, & inclusion.