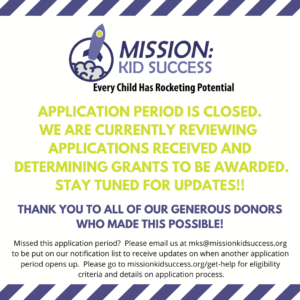 IMPORTANT MISSION: KID SUCCESS UPDATE! 📢 Our grant application period closed on July 31st. We are currently in the process of reviewing received applications and determining grants to be awarded. 🙌 Stay tuned for updates on grants issued!
Thank you to all of our generous donors and to everyone who has supported us! 🙏💜This would not have been possible without you. 👏👏👏 We are forever grateful for all the help and support we have received!
If you are in need of funding for your child to receive services and missed this application period, please email us at [email protected] and we will put you on our notification list for when we open up another application period.